Our aesthetic treatments help bring out your best.
Facial Rejuvenation
Utilizing our advanced techniques and technologies, you can expect significant revitalization of your skin.
Medical Weight Loss
Why take hazardous stimulants when there is a smarter, safer way to lose weight and body fat?
Body Contouring
The latest in cryolipolysis technology allows us to freeze your fat cells away without damaging the skin.
Energy Optimization
Vitamin and mineral compounds, specific to your needs, are injected for fast replenishment.
Stay in the loop...
Receive the latest news and offers with
exclusive access to special events and discounts.
April Specials
 Time for Spring Rejuvenation
MicroNeedling
natural skin renewal
$350 (reg. $395)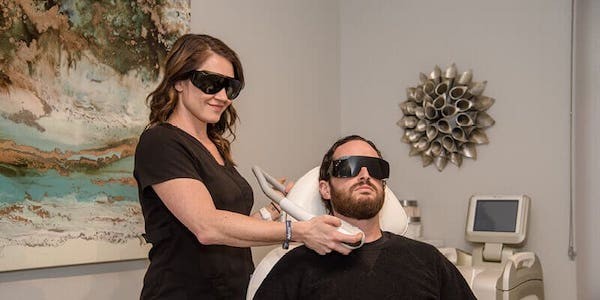 IPL Photofacial
bright and clear skin
Face - $300 (reg. $350)
Face & Neck - $375 (reg. $425)
Face, Neck & Chest - $425 (reg. $475)
Fire & Ice Facial
no-downtime resurfacing facial
$100 (reg. $125)
Buy 3 Botox Treatments get the 4th FREE
$995 (save ($545)
BONUS: Get $200 off any 2 syringes of Juvederm
Must prepay for Botox treatments.
Botox treatments must be completed
3-4 months apart to qualify for free treatment.
Juvederm offer available after 3rd Botox treatment.
Offer available while supplies last and subject to change anytime.
*Certain restrictions may apply. Subject to change without notice. Patient must be examined
by licensed medical professional prior to receiving medical treatments. Offers valid until 4/30/19.
Meet our Providers
Our team of professionals is dedicated to delivering
the best experience to our patients.
See what our patients have to say…
Leslie is awesome! I was scared to try Botox to get rid of my ugly frown lines. Leslie explained the benefits and did the Botox injections. I'm very happy with the results. I only trust Leslie and would drive 50 miles to see her. Love her!* Lisa D.
Leslie is incredibly skilled with injections and lasers. She listens to your concerns and makes sure to address them. The results always look natural. She has a gentle, but extremely effective, touch and her good humor makes any procedure a pleasure.* Andrea B.
I got my lips and some Botox done at Beyond Aesthetics by Leslie. She is amazing, she has such a great personality, a gentle touch and is really thorough. I felt so comfortable there while getting work done. My lips look AMAZING!!!* Corrin L.